Summer Camps are paid on a one-time basis in advance.  Our MathKids program is offered on a month-to-month basis.  Tutoring charges are payable at the time of the tutoring sessions.
School Year (9-month Sep – May), Calendar Year (12-month), and Summer School (Jun, Jul, Aug) programs for Preschool, Pre-Kindergarten and Kindergarten are all based upon a term tuition agreement offering either monthly or term payment options. Those listed below are effective as of June 2016: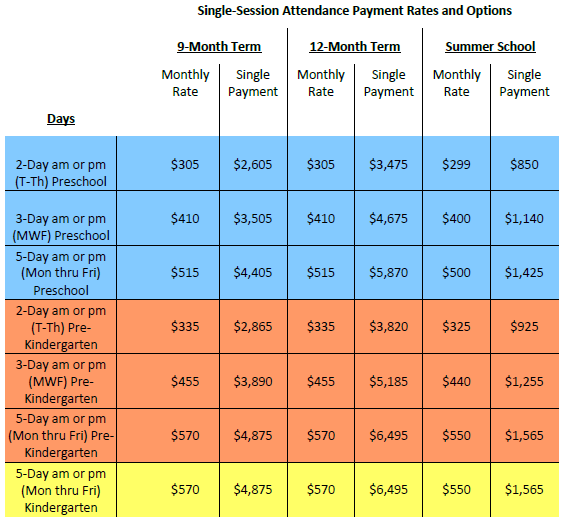 School Year Program enrollment is for a full school year term September through May. Calendar Year Program enrollment is for a full calendar year from the date of enrollment. Summer School Program enrollment is for June, July, and/or August.  Each type of enrollment may be paid in advance at either a monthly rate or a full-term rate (9-months, 12-months, or 3-months) as shown above.  Single payments for a full term offer an approximately 5% discount.
Registration fees, materials fees, and first monthly (or full-term) payment are due upon enrollment. Registration and materials fees are non-refundable. Monthly payments are non-refundable for early cancellation. Partial refunds for early cancellation may be available under the single payment options. Please ask for details.
The tuition rates listed above are for single-session attendance — either morning or afternoon.  The rate for all-day instruction is at 200% of the listed single-session rate.
An annual registration fee of $50 is due upon initial enrollment, and annually thereafter.
A materials fee of $15 per month for Preschool or $25 per month for Pre-K or Kindergarten is due for the entire term upon enrollment.
An annual materials fee of $50 for the Music Together program is due upon enrollment.
Foreign language instruction is an optional program — please ask for details.
The first monthly payment or single payment option for students who begin School Year (Sep – May) attendance later than the September start of the school year will be pro-rated according to the number of calendar days missed.
We offer a 5% sibling discount for a child who has a sibling attending at an equal or greater total rate (one discounted rate per each full rate).
Please note that all day and session slots are available on a payment-reserved basis — we are unable to guarantee a particular schedule until registration and materials fees and an initial installment payment are received.
We accept payment by cash, check, money order, Visa, or MasterCard. Payments are due on the 1st day of each month. Payments not received by the 10th day of the month are considered late and may be assessed a 10% late fee. Payments not received by the 15th day of the month may result in the child being dropped from the program until the account is brought current (unless separate arrangements are made). If any of the above dates fall on a weekend or holiday the due date is extended to the next business day.
(Details above are offered for informational purposes — individual agreements are based solely upon the individual term written contracts.  For full details, please contact us to request a copy of our tuition agreement.)
Aftercare is available through pre-purchased cards at $10 per hour for the period from the end of a student's afternoon session up until 5:00pm.  Purchased time is expended as used, rounded up to the nearest half hour.
We are able to offer a modest tuition discount to a limited number of parents who wish to commit to classroom help time for their children or to help at other times with things such as classroom and materials preparation, classroom and grounds maintenance, assistance with special event preparation, etc. — please contact us for specifics.